What breed has the third oldest studbook in France and is the third oldest breed in the world? Surprisingly, it is the Anglo-Arabian horse! What breed is rated third in the world as an event horse? Again, it is the Anglo-Arabian!
An Anglo-Arabian is a horse consisting of any combination of Arabian and Thoroughbred lineage, with no more than 75% nor less than 25% Arabian blood.
They are unique in the Arabian family as the only breed that doesn't require at least one purebred Arabian parent to be registerable. Anglo-Arabs can be crossed with each other or with purebreds to produce the desired traits of each breed, as long as the 75/25 guidelines are followed. They are registerable with the Anglo-Arabian Horse Registry of the Arabian Horse Association (AHA) and are then eligible for participation in all AHA shows and programs, including Futurities and Sweepstakes.
The Arabian crosses so well with the Thoroughbred because they actually come from the same genetic pool – the three original foundation Thoroughbreds were of Arabian blood.
Internationally, Anglo-Arabians are chosen because of their outstanding athletic ability. They are best at such sport horse activities as hunter/jumper, cross country, dressage, show hack, endurance and competitive trail riding. Anglos are also very popular for racing.
These horses were first bred in France in the 1836 under the control of the French National Stud Service. English Thoroughbred mares, first imported to France in the mid-18th century, were crossed with Arabians left in that country after the defeat of the Moslems.
Breeders from Normandy created the Anglo-Arabian as early as 1750, although they didn't use these cross-breedings as a breed unto itself. At Duc des Deux Ponts (now called la Sarre), mares were bred to Arabian and Turkish stallions to start a family and then a specific breed. Although the success of these breedings was apparent by 1775, it was still done on a limited basis.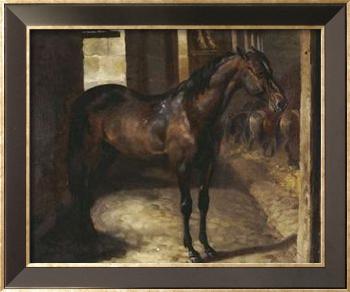 During the Revolution and the Empire, British sires were not able to be imported, but Bonaparte came back from his Egyptian campaign with a liking for Arabians, several of which he brought back with him to the Pompadour stud.
Then, in 1833, at Le Pin studfarm, Mr. de Bonneval began the actual creation of the Anglo-Arabian breed. He bred the bay Arab stallion Massoud to two English Thoroughbred mares, Selim Mare and Deer, both of whom were imported to France in 1820. De Bonneval also crossbred in the opposite direction – having bred the Arab mare Nichab to English sires, but the results were not as good.
In 1833, an ordinance by Louis Phillipe created the French Studbook where the English, Arab and Anglo-Arab horses could be found. When, in 1840, Mr. Gayot was made manager of Le Pin Stud, his goal was to establish a "French Thoroughbred" family, chosen from English and Arab stallions. When he was made manager of Pompadour in 1843, he took his "family" with him.
In 1848, Gayot published the first part of "La France Chevaline." He wrote about how slowly the French Thoroughbred family developed. But about the Anglo-Arabians, he wrote,"With regard to development and corpulence, Anglo-Arabs being intermediaries between Arab and English horses, they are in excellent condition. They have a longer figure, high tail carriage, deep and roomy body and bigger legs than the Arab; they are less flat, less out-stretched and less thin than the English Thoroughbreds. They are less touchy and their foals are less irritable, and succeed better where fertility of the ground has not yet given a rich substance to fodders and to grains, raw material of any good animal production."
Thus the Anglo-Arabian breed was born. It took several years for it to become established, but its importance became apparent among the famous French breeds of "Selle" horses. (The breed "Selle Français" is genetically an Anglo-Arabian.)
By 1850, Anglo-Arabian stallions were used for both pure and cross-breeding. By 1860 race competitions exclusively for Anglo-Arabians were popular. This helped mold the breed since the race winners were often the favorite sires, even for those not breeding for the track.
In 1880, the Anglo-Arabian breed requirements were formally established. To be called Anglo-Arabian Thoroughbred, the horse only needed 25% Arab blood. In racing, they differentiated between 25% and 50% Arab horses.
Finally, in 1890, the Anglo-Arabian breed was included in a special part of the French Stud Book, as well as the English Thoroughbred and the Arabian Thoroughbred.
Although this story begins with a girl and an Arabian stallion named Aazrak, pictured below, their mark on the Anglo-Arabian breed in the US is
Read More »
Anglo-Arabian Vermiculus will be making his Rolex debut this year with Olympian Lauren Kieffer aboard. We will update this post as they compete! Photo Above:
Read More »
In the middle of a fabulous season of eventing, Katy Groesbeck with her 2 Anglo Arabian brothers were featured in the August/September issue of THE ARABIAN
Read More »
The characteristics of the Anglo-Arabian made it the European epitome of a war horse – dexterity, strength and endurance. Calvary horses became outdated after World War I, but with the advent of military equestrian sports in the 1920's, and Anglos winning in all disciplines at all levels, their popularity soared. Today's modern German warmblood breeds are indebted to several key Anglo-Arabians, such as Matcho, Inschallah and Ramzes, for their contribution of refinement and athletic abilities, and are hardly conceivable without the influence of these sires.
For France, the Anglo-Arabian Linon won the silver medals in three-day eventing at the 1928-32 Olympic Games. Harpagon won the silver medal in Dressage at the 1948 Olympics and the bronze medal in 1952. Aiglonne won the gold medal in three day eventing in 1948. Ali Baba won the 1952 gold medal in show jumping and more recently, Jiva was second in the 1987 Volvo World Cup; and Morgat AC won a bronze medal in Seoul and a gold medal at the Stockholm Team World Championships. Artemor won the Gold in Showjumping and team Silver for Poland in the1980 Olympics.
In Great Britain, an Anglo-Arabian is defined by the Arab Horse Society as a horse whose pedigree contains only Thoroughbred and Arabian blood. In their annual versatility contest for the Lady Yule Memorial Trophy, Anglos place in the forefront of all spheres of the competition consistently. In England, several races are held for Anglo-Arabians in all Arabian race meets, usually they run distances of from one to two and a half miles.
The Spanish-bred Anglo-Arabian was developed by crossing Spanish Arabian mares with imported English Thoroughbred stallions and interbreeding the best of their get. This was also done in Portugal. The Spanish Army Remount Commission selects Anglo-Arabians for military teams in international competition and sporting events.
In Canada, Anglo-Arabians are registered with the AHA, the partbred division of the Canadian Arabian Horse Registry or both. Rules for showing are governed by the Canadian Equestrian Federation. This breed is so popular in Canada that many shows offer classes for them alone in both halter and performance, seperate from Half-Arabians.
Continue learning by reading the next section about Anglo-Arabians today.