USDF Gold Medalist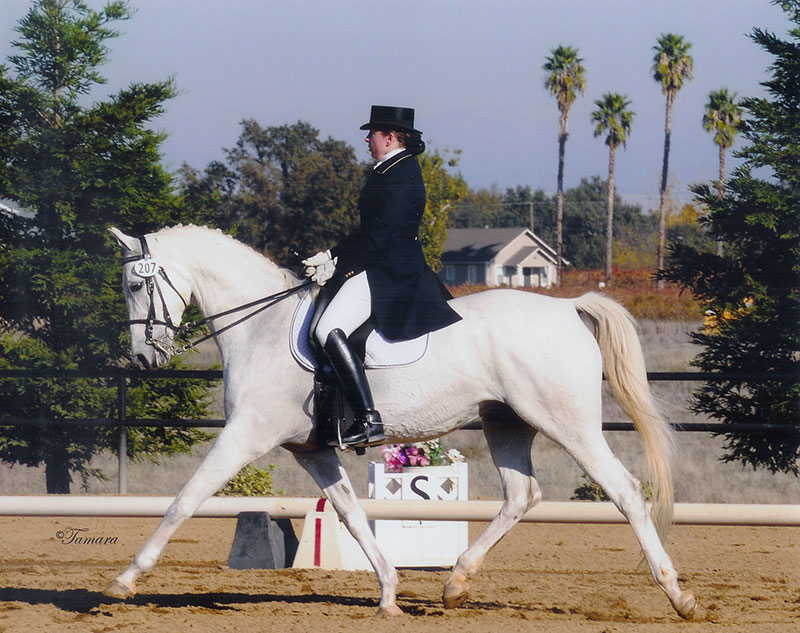 By Jennifer Walker
When Fair Oaks, California resident Rita Mason purchased her horse Athena+++// (LS ZaneGrey+// x Little Badger Baby) as a yearling in 1998, she never expected that the grey Anglo Arabian would one day be a Grand Prix dressage horse. However, after many years of hard work, dedication and more than a little hardship, the pair made their Grand Prix debut just a few weeks ago and earned their USDF Gold Medal in just four rides.
"It was the most amazing thing to win the USDF Gold Medal," says Mason. "I still can't believe I actually did it."
Mason didn't even plan for dressage to be Athena's long-term career. In fact, she purchased Athena as an endurance prospect. When the mare was three and too young for endurance, Mason started showing Athena in dressage and sport horse classes with great success. She took her on a 30 mile endurance ride the next year and finished, but she could tell endurance was not Athena's thing, so they headed back to the dressage court.
Mason's goal when she began dressage training with Athena was just to make it to second level. However, they kept going, and after they received their Bronze Medal (requiring two scores of 60% or better from two different judges at first, second and third level), she realized that the Gold Medal could be in their future. They worked their way up the levels, winning the Fourth Level national championship in 2004. However, their journey to Grand Prix was interrupted three times along the way: three times that could have put Athena out of the show ring permanently, but she came back each time.
"Once we were on the path to try and get the gold medal, it happened way faster than I ever imagined – especially if you consider the injuries we had to overcome. Each of her three injures caused an interruption in our training of six to eight months."
Some riders might have given up on a horse after the second or third lay-up, but not Mason. "I tried to use our down time to focus on fixing things in our training at the walk or trot, depending on where we were in our rehab, so at least the time wasn't completely wasted. Once we finished our most recent rehab, Athena was right back to where we left off – I just had to get her strong again."
"Many horses don't make it back from one rehab, let alone two or three," adds Colleen Reid of Equine Sports Complex, Mason's trainer. "But with perseverance and a little luck combined with a mare's enormous heart, each time they came out of rehab and kept moving up the ranks."
The Path to the Gold Medal
In order to earn a USDF Gold Medal in dressage, a rider must earn two scores of 60% or better from two different judges at Intermediaire I or Intermediaire II and Grand Prix. This is a very difficult task, because not only do the movements get harder as a rider moves up the levels, but every movement must be performed better to earn the same score as the rider might have earned in a lower level. It takes years of hard work and dedication to reach the Grand Prix level, and many horses and riders never accomplish it—let alone earn high enough scores to earn their medal.
"To take a horse through the ranks, from Training Level through Grand Prix requires a level of commitment that very few people are willing, able, or have the opportunity to demonstrate," explains Reid. "This Gold Medal says to anyone who sees it, 'She worked hard, studied hard, sweated hard, (yelled at her trainer occasionally) and made herself ride better and better every day.' It says she understands not just the theory but also the practice of Dressage."
No One can Get There Alone
Mason was not alone on this journey. Although she did most of Athena's training herself, she got a lot of help from Reid. "When I came to her, I was just starting to think I could show first level. She as been with me all the way. Colleen has an amazing ability to see the slight changes in my body that would make a big difference in my horse. I am not sure I would have been able to make this journey without her guidance and friendship!" Mason also rode in clinics with a variety of coaches to further her education.
Mason had taken just a few dressage lessons before she started working with Reid. During the early stages of her training, she often felt frustrated because others seemed to be advancing faster because their horses were already trained, while Rita was trying to train Athena at the same time she was learning herself.
Reid comments, "I felt an absurdly incredible sense of pride in Rita and in her lovely mare Athena. The most important part of this accomplishment is that Rita did it all herself. I am her coach, her teacher, her trainer, but Rita has been Athena's trainer from Training Level through Grand Prix. It has been my good fortune to be able to work with both of them."
Mason credits a portion of her success to the willingness of her horse. "One time I was riding as a demonstration rider for the 'S' judge Tracey Lert at Horse Expo. The point of the exercise was to show how riding incorrectly can affect how the horse can perform. One of the exercises she gave Athena and me was to do a canter pirouette correctly and then while in the pirouette, change my position to be off balance to show she wouldn't be able to perform the move as well. But as I shifted my weight and tried to unbalance her, she just shifted under me and kept going. If I didn't have a horse like this, I may not have ever gotten close to competing at Grand Prix."
When taking on the commitment of learning dressage to the highest level, one learns more than just how to ride the movements. They learn to trust and connect with their horse and how to set goals and attain them. Mason has more to add: "Hard work and dedication really do pay off. I have such a fun horse to ride; I look forward to riding every day. Riding has always been my priority and that is what has gotten me to where I am."
Congratulations to Rita Mason and Athena+++// on their huge accomplishment!